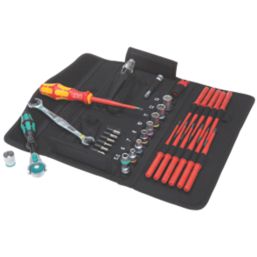 Wera Trade Kit 35 Piece Set
(515FP)
Compact trade kit for indoor and outdoor maintenance jobs. Joker ratchet, with limit stop plate on the open-end, counteracts slip from the fastener and operates in just half of the space of a standard wrench. The ultra-fine, and ultra-strong 80-tooth 4.5° ratchet ring end, complements the tools ability to work in confined spaces. The special geometry of the Joker, manufactured from forged chrome-molybdenum steel, ensures high torque transmission and rigidity, whilst nickel-chrome plating provides corrosion protection. ¼" Zyklop ratchet, with flywheel head and freewheel spin-sleeve, increase operational speed. High-precision gearing provides a small return angle of 5° and allows work in confined spaces. Swivelling ratchet head offers up to 5 different positions. VDE 160i and 160iS screwdrivers, with Kraftform handle design, adapt to the shape of the hand to help prevent injuries. Wera's ductile, tough and absorbing screwdriver bits are made from high quality and high strength materials. The unique hardening processes makes them incredibly hard-wearing and the first choice for the professional. Suitable for general use with a universal bit holder, allowing power tool use. Supplied in a compact textile box.
Zyklop Speed Ratchet with 5 Pre-Defined Locking Positions
Joker Double Open-End Wrench with Holding Function
VDE-Insulated Kraftform Holder with 12 Interchangeable Blades
'Take it Easy' Tool Finder
More Info
View all: Wera Tool Kits
Specification
Brand
Wera
Carrying Facility
Carry Case
Manufacturer Guarantee
1 Year Guarantee
Model No
05135926001
Pack Size
1
Pieces in Pack/Case
35
Product Type
Trade Kit
Product Contents
9 x 102mm VDE screwdriver interchangable blade handle, KK 60 i slotted interchangable blade (0.4 x 2.5 x 154mm), 3 x KK 60 iS slotted interchangable blade (0.6 x 3.5 x 154mm, 0.8 x 4.0 x 154mm and 1.0 x 5.5 x 154mm), 2 x KK 62 iS PH interchangable blade (PH1 x 154mm and PH2 x 154mm), 2 x KK 65 iS PZ interchangable blade (PZ1 x 154mm and PZ2 x 154mm), KK 67 iS TX interchangable blade (TX10 x 154mm), 3 x KK 67 iS TX interchangable blade (TX15 x 154 mm, TX20 x 154 mm and TX25 x 154mm), 1440 screw gripper 4.5 - 6.0 x 41.0mm, 247 single pole voltage tester 0.5 x 3 x 70mm, joker double spanner 10 x 13 x 167mm, 8000A Zyklop speed ratchet ¼" x 152mm, 8784 A1 ¼" Zyklop bit adaptor ¼" x 37mm, 8794 SA extension ¼" x 75mm, 8 x 8790 HMA ¼" sockets (5.5 x 23mm, 6 x 23mm, 7 x 23mm, 8 x 23mm, 10 x 23mm, 11 x 23mm, 12 x 23mm and 13 x 23mm), 893/4/1 K bit holder ¼" x 50mm, 2 x 855/1 Z PZ bits (PZ1 x 25mm and PZ2 x 25mm), 4 x 840/1 Z hex plus bits (3 x 25mm, 4 x 25mm, 5 x 25mm and 6 x 25mm) and 867/1 Z TX bit (TX25 x 25mm).