Introduction
Smart lighting is a convenient way to control lighting in a home. But its benefits go much further than that.
This smart home lighting guide explains all the clever features and benefits of smart lighting. But first, we start with the basics: what smart lighting is, how it works, and the types of smart lighting available. We also cover smart lighting costs and installation and answer your frequently asked questions.

What is Smart Home Lighting?
Smart home lighting is a simple and customisable way of lighting a property. It promotes efficient light usage and therefore helps to reduce energy bills.
Smart lighting systems are connected to the internet and controlled via an app on a smartphone or tablet, or a smart speaker, such as Alexa or Google Home. The system can be controlled remotely from anywhere. And lights can be scheduled to turn off and on, adding additional security when away from home.
Types of Smart Lighting System
Different types of smart lighting are available to make up a smart lighting system. Some products can be used independently, and others can be used together.
How Does a Smart Home Lighting System Work?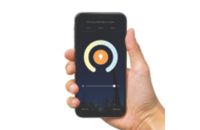 A smart home lighting system works by connecting smart lighting products to an app on a smart device, either through Wi-Fi or Bluetooth. They allow the homeowner to control the connected smart lighting product through smartphones, tablets, or smart speakers, such as Alexa or Google Home. And when they're connected through Wi-Fi, they can be controlled from anywhere in the world.
Smart lighting components include smart light bulbs, smart downlights, smart LED strip lights, smart PIR security lights and smart switches.
To convert normal lights to smart lights, you simply replace regular light fittings, switches, and bulbs with smart versions. You can start with just one smart light bulb or expand the system and add additional smart lighting products around the home.
Most smart lighting products don't need to be connected to a smart hub. However, a smart hub will be required if you're connecting many smart lights or other smart home products to the same system, so they work together. Most smart hub brands only work with their own brand of components, so always check compatibility before you buy.
When it comes to smart switches, it's important to note that they should not be used with smart light bulbs or other smart light fixtures. This is because a smart switch controls the light bulb or light fitting that's connected to it. So, the bulb or light itself doesn't need to be smart as well.
Smart Home Lighting Features to Consider
Smart home lighting products come with many different features. But what's available differs between brands and models. Check out the possible features below before buying to ensure you get a smart lighting system that meets your needs: 
Brightness control
Most smart light bulbs, downlights, and LED strip lights have a dimmable function which means you can control their brightness. There are also options that coordinate with daylight hours (i.e., the brightness gradually turns up as the day gets darker) and mood (i.e., dimming the light for relaxing or winding down before bedtime).
Colour control
Many smart light bulbs and smart LED strip lights have multiple colour options and a range of white light options, from cool white to warm white. The colour can be changed remotely via the app to suit the mood. More advanced bulbs can be connected to an entertainment system. The bulb colour can be adjusted automatically to match what is being watched on the TV for an immersive viewing experience.
Timing control
Most smart lighting products can be pre-set to turn on and off at chosen times. This is an excellent security feature as lights can be set up to come on when the homeowner is away, making it look like someone's home to deter burglars.
Remote control
Smart lighting products connected to smart devices via Wi-Fi (rather than Bluetooth) can be controlled from anywhere in the world as long as there's an internet connection. So, in addition to setting up timers when the homeowner is away on holiday, they can also turn the lights on at times when they weren't expecting to be away. For instance, if they are going to be late home from work.
Voice control
Most smart home lighting products can be controlled by voice commands through compatible smart speakers such as Alexa or Google Home. This feature is even more convenient than adjusting the lighting through an app because there's no need for the phone to be at hand. For example, ask Alexa to dim the lights when getting into bed to read, then ask her to turn them off when it's time to sleep.
Group light control
All smart lighting products can be used independently from each other. But multiple products can also be connected to a smart hub and can be grouped, so they work together. For example, group downlights in a kitchen so they go on and off together. Or set them up as two groups to light different parts of the room.
IFTTT support
IFTTT stands for 'if this, then that'. It relates to an automated smart home system that allows multiple smart home products to work together based on a pre-set number of triggers and actions. For example, smart lighting could be connected to smart motion sensors, so lights come on automatically when someone is in a room, then go off when it's empty. Or they can be linked to contact sensors, so lights come on when a door is opened. Not all smart lighting products can connect to smart home systems, so always check compatibility before buying.  
Smart Home Lighting Costs to Consider
The cost of smart lighting will vary significantly depending on the type, the brand, and the features it comes with. The size of the system is also a factor. If you're considering changing all the lights in a home, the bigger the property, the higher the cost. And you may also need to buy a smart hub if you want to connect all the products, or other smart home products, to one system.
On the plus side, some smart lighting products are designed for DIY installation, so there's no need to pay a professional. Installing a smart bulb, for example, is as easy as changing a light bulb. And smart LED strip lights simply stick onto a hard surface and are plugged into a plug socket.
Browse our range of smart home lighting products starting with smart light bulbs here to get a better idea of current deals and prices to best suit your budget.
Benefits of Smart Light Bulbs
Smart lighting has many benefits: 
Save energy
Smart light bulbs and smart light fittings all use LED lights which are approximately 75% more efficient than incandescent lights. So, if you are swapping out old incandescent lights, there will be an immediate saving. But even when replacing standard LED lights, energy can still be saved with smart lighting. For example, lights can be dimmed, so they don't use as much electricity. And, when combined with smart sensors, lights can be turned off when no one is in a room.
Improved wellbeing
It's well known that blue light can disrupt our circadian rhythm – the natural process our bodies go through to regulate our sleep/wake cycle. Over time this can lead to health problems related to lack of sleep. However, some smart lighting products have been developed to help combat that – they change colour during the evening to warm hues that can aid sleep.
Longevity
Smart light bulbs use LED lights that have been developed to last for many years. Most last between 15,000 and 25,000 hours, which means, depending on how long the bulb is used each day, they could last between 15 to 25 years. So, they hardly ever need to be changed compared to incandescent bulbs that only last between 250-2000 hours.
Security
Smart home lighting plays an important part in home security. First, some smart outdoor lights are specifically designed for security, such as smart PIR security lights and smart PIR floodlights. These have built-in motion sensors and cameras, and they send an alert to a smart device if movement is detected. Indoor smart lighting also helps because lights can be scheduled to come on and off to deter burglars when no one's home.
Convenience
Smart lighting can be controlled remotely through a smartphone or by voice command through a smart speaker. This is very convenient because it means you don't even have to leave your seat to dim the lights or switch them off. 
How to Install Smart Home Lighting?
Smart home lighting products are installed in the same way as standard lighting products, but with the added step of connecting them to an app on a smart device.
For smart home lighting installation, smart light bulbs are the easiest. They simply fit into an existing light fitting. And smart LED strip lights come with self-adhesive backing that sticks to any hard surface, then they can be plugged into a socket.
If you're looking to install a smart switch, smart PIR security and floodlights, outdoor lights, or downlights, these must be wired into the mains electric, so we recommend using an electrician to do this job.
Once all the components are fitted, download the manufacturer's app on a smartphone or tablet, then follow the instructions to connect them to the app and a smart speaker.
An extensive home lighting system may also require a smart hub. If this is the case, the smart hub usually connects to your internet router with an ethernet cable. When installing smart lights, these components connect to the hub, and the hub connects to the app on the smart device. The exact setup will differ for each brand, so always follow the manufacturer's instructions.