Smart Homes: everything you need to know
Smart Homes: everything you need to know
Introduction
Smart home devices can automate many routine tasks around a home, adding convenience, enjoyment, and even safety to the homeowners' life, depending on which smart home products are installed. But with so much smart home technology available, the thought of setting up a smart home system can be daunting.
In this guide, we explain how to make a smart home. We cover what a smart home is, the different types of smart home devices, costs, advantages, and disadvantages, how to set up a smart home system, and things to consider before buying.

Shop Popular Smart Home Categories
What is a Smart Home?
A smart home uses internet-connected technology to allow homeowners to control, automate and monitor appliances and systems in their homes remotely. It involves setting up one or more smart devices, connecting them to the internet and controlling them through an app on a smartphone or tablet, through a website or via a smart speaker.
Smart devices include light bulbs, thermostats, TVs, kitchen appliances, security systems, doorbells and much more. They can be used on their own or as part of a smart home control system where multiple smart devices interact with each other.
A smart home can do many clever things depending on the smart home technology installed. For example, smart security devices allow homeowners to protect and monitor their homes when they're not there. And a smart thermostat can turn heating on automatically when the homeowner is about to return home.
But life can get even more convenient when different smart home systems work together. For example, smart lights can be programmed to turn on automatically when a front door is opened with a smart lock. Setting up a morning routine could involve having lights, the radio and a coffee maker turn on with a voice command while sitting in bed. In addition, smart lights can come on in a hallway at night when activated by a smart motion sensor.
Here's an example of what a smart home system could look like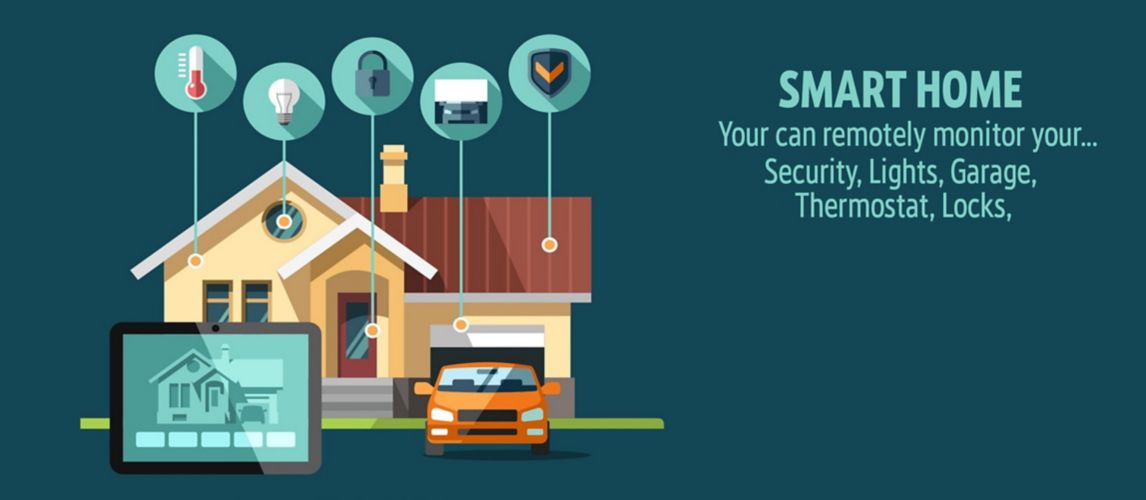 How to Create a Smart Home System
To create a smart home system, first choose which ecosystem (the technology that controls the smart system) you want to use. The most popular smart home ecosystems include Google Assistant, Amazon Alexa, Apple HomeKit, and Samsung SmartThings.
Once the smart home system has been decided, start with buying a smart home hub that runs on that ecosystem. The home hub could be a smart speaker, a smart display or a dedicated smart hub. This central hub device will control all the other smart home devices installed.
When the smart home hub is chosen, you can add compatible smart home devices to the system. You can see a list of the best smart home devices in the next section.
A smart home system can be installed into any type of home. If you're building a new home, you have the flexibility to choose wired smart home devices that can be installed while the building works are going on. But there are also many wireless smart devices available, designed for easy DIY installation. So, it's possible to set up a smart home system in a new build or convert a home to a smart home when the property is older.
Best Smart Home Devices
There are many smart home solutions to choose from, with various smart home devices included in each. Most devices can be used independently, but they can also be connected to form part of a broader smart home system.
Here's a rundown of the best smart home products available: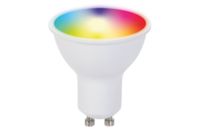 Smart Lighting
Smart lighting products include smart light bulbs, smart downlights, smart LED light strips, smart PIR security and floodlights, smart light switches, and smart outdoor lighting.
They allow homeowners to control lights remotely or with their voice when at home. For example, automating lights to turn off and on when away from home for security purposes. Change brightness and colour settings with a voice command for convenience. Or programme lights to turn off in an unoccupied room to save energy.
Check out our smart lighting guide for more information.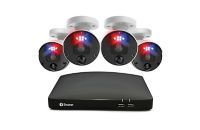 Smart Security
Smart security products include smart CCTV systems and cameras, smart door locks, smart burglar alarms, smart sensors, and smart doorbells.
They allow homeowners to protect and monitor their homes from wherever they are in the world. So, if there is a break-in, the emergency services can be alerted straight away.
You can learn more about smart security in our smart security guide.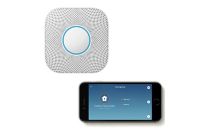 Smart Fire, Smoke, and Carbon Monoxide Detectors
Smart fire, smoke and carbon monoxide detectors add an extra layer of security over their standard versions because they can alert the homeowner to an emergency when they aren't home.
This means emergency services can be called immediately, potentially saving their property from more extensive damage. And, when used in conjunction with a smart CCTV camera, the homeowner can check live camera footage to make sure it's not a false alarm.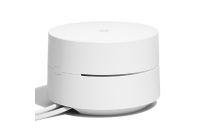 Smart Hubs and Routers
A smart hub is a device used as a control centre for other smart devices within a home. The smart hub connects to the home's internet router through an ethernet cable. Then all smart devices connect to the smart hub through Wi-Fi. They allow homeowners to control all their smart devices from one app, remotely or with their voice when at home. But not all smart devices require a smart hub to work, so always check first.
A smart router is similar to a standard internet router but with the added benefit of being able to control the internet through an app on a smartphone or tablet. They have features such as setting up parental controls, blocking access to certain websites, changing passwords, and sharing internet access. They also act as a Wi-Fi extender which is ideal for homes with a weak Wi-Fi signal.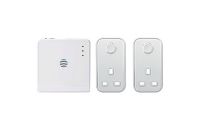 Smart Home Kits
A smart home kit provides an easy way to get started with automating a home. Each kit contains two or more smart devices designed to work together, and they come in various combinations. For example, you can buy kits with several smart bulbs and a remote control. There are kits with a hub, smart plugs and an energy monitor. And kits with a hub, smart sockets, and a remote control.
Browse our range of smart home kits to get an idea of what's available.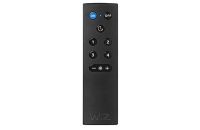 Other Smart Home Devices
The smart home devices listed above are the most popular, but many other products have smart functionality too, and the list is increasing all the time.
Other smart home devices include baby monitors, coffee machines, robot vacuum cleaners, window shades, garage door openers, slow cookers, and much more.
In addition to that, there are smart electrical devices available, such as smart plugs, sockets, switches, extension leads, and smart remote controls. When used with an ordinary electrical item, that item becomes a smart device too. Read more in our guide to smart plugs and switches.
There's also a clever piece of technology called an inline on/off relay, which is wired in and allows you to connect and control multiple lights via Bluetooth. For example, add several LED light strips around a kitchen. Then, rather than finding space to install a switch for each one, the inlay on/off relay can control them all.
Another handy smart device is an energy saving power meter socket. It plugs into the wall, then any electrical appliance can be plugged into it. The socket then monitors and measures the energy use and costs of running that appliance, helping homeowners lower bills and reduce emissions.
Smart TVs
Unlike standard TVs, smart TVs connect to the internet through Wi-Fi or an ethernet cable. So, besides having all the functions of a traditional TV, they also allow the user to watch video streaming services, browse the internet, play games, make video calls, and access apps.
Smart Watering Systems
Unlike standard watering systems that work to a pre-set schedule, smart watering systems connect to the internet so they can be controlled remotely using a smart device. And they are much smarter too. Depending on the device, they can monitor the weather and soil conditions to adjust the watering schedule accordingly. That means plants are never under or overwatered, so the homeowner saves money and has a healthier-looking garden.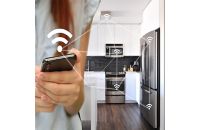 Smart Kitchen and Laundry Appliances
Many types of smart kitchen and laundry appliances are available, all designed to make life more convenient. And they all differ in their capabilities. A few examples are smart refrigerators that send an alert if the door is left open, produce a shopping list, or tell you how often it's been accessed. Smart ovens allow users to turn them off and on remotely, control the temperature and monitor the cooking status via an app. Smart dishwashers and washing machines check the progress of the wash, send alerts when it's finished and run diagnostics to check the machine is running efficiently.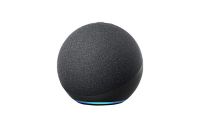 Smart Speakers

A smart speaker is often one of the first smart home devices homeowners buy. It connects to the internet and allows users to communicate with a voice assistant such as Alexa, Siri, or Google.  
A smart speaker can act as a smart home hub to connect and control all the smart home devices installed in a property, using voice commands. But it's also an excellent device on its own. Simply ask a question, and it will search the internet and give an answer. It can also play music, send reminders about important events, act as an alarm, and much more.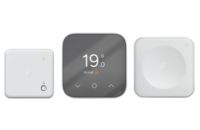 Smart Heating
Smart heating products include smart thermostats, smart radiator valves, smart central heating controls, and smart electric radiators.
Smart heating works by connecting the heating system to the internet so it can be controlled remotely using a smart device. Depending on the set-up, smart heating systems can alert the homeowner if there's a draft, turn the heating off or down if no one's home, and turn it on when they're about to return. It can also adjust the temperature in different rooms or zones independently to the rest of the house, respond to weather reports, and more.
Check out our smart heating guide for more information.
How Much is a Smart Home?
The costs to set up a smart home can vary significantly depending on which smart home devices are purchased, how many there are, and how they are connected.
If you want to know how to set up a smart home on a budget, you can start with something as simple as a smart light bulb or smart speaker which can be a good low cost starting point. The system can then be built upon, with new smart home kit being added over time.
Smart home devices are more affordable when bought individually, and the costs can quickly stack up. But, setting up a smart home should be seen as an investment because there are many benefits which we'll run through later in this guide.
Smart Home Factors to Consider
1. Compatibility
Smart home devices are often only compatible with specific ecosystems, such as Google Assistant, Amazon Alexa, Apple HomeKit, and Samsung SmartThings.
Some devices will connect to more than one of these systems, while others (devices using Apple HomeKit in particular) will only connect with one. So, choose which ecosystem to use first, then check the smart home device's information to ensure it says 'works with Alexa, Google Assistant, Apple HomeKit, or SmartThings' accordingly.
2. Wi-Fi versus Bluetooth
Most smart home devices connect to the internet via Wi-Fi, so they can be controlled from anywhere in the world, as long as there's an internet connection.
Some smart home devices only connect to their control system (i.e., smartphones, tablets, or speakers) through Bluetooth. Unlike a Wi-Fi connected device, the smartphone needs to be in the vicinity of a Bluetooth connected device for it to work, so the device can't be controlled when the user is away from home.
3. Strength of Wi-Fi
Wi-Fi connected smart home devices rely on a strong internet connection to work. If you are setting up multiple devices around a home, you might find some areas where the Wi-Fi signal is weak. This is particularly common when setting up outdoor smart home devices such as watering systems, lighting, or CCTV cameras. To boost the Wi-Fi signal to reach these areas, choose a good central location for your router, and install Wi-Fi extenders if necessary.
4. Security and privacy
As with all things connected to the internet, smart home devices could be subject to hacking, and personal data could be shared with unwanted third parties. However, smart home devices can be made safer by taking precautions. For example, stick with established brands, use a strong password, set up two-factor authentication and keep the software up to date. Also, check the manufacturer's privacy policies and choose what data can be collected and shared.
How to Set up a Smart Home
Smart home set-up can seem a little daunting when you start. Simply start with the smart home hub (a smart speaker, smart display, or dedicated smart hub). Then add the chosen smart home devices one by one, following the manufacturer's instructions. Once these are in place and connected to the hub, you can start to organise the system and set up commands as follows:
Set up grouping
Organise smart home devices into rooms or zones so that certain devices work together. For example, group the lights and TV in the living room and set a 'goodnight' command that turns them both off when going to bed.
Set up automatic and intelligent settings
Automatic settings allow you to set up things such as automatically turning on the coffee machine when you say, 'good morning'. Or you can program devices to use intelligent settings such as geotargeting, which works by tracking the location of the connected smart device via GPS. This can be used, for example, to switch the heating on when the homeowner is within 15 minutes of arriving home.
Set up routines and schedules
Set up timers so that systems, such as the heating, go on and off at set times. These timers can be overridden by the automatic and intelligent settings if the user schedules changes.
Set up IFTTT (if this, then that)
IFTTT is a powerful app that allows the user to connect and integrate multiple smart home devices that would otherwise not be compatible with each other. Use it to set up triggers that lead to action. For example, when someone unlocks the front door with a smart lock (the trigger), the system turns the lights on in the hallway (the action).
Advantages of a Smart Home
Saving energy and money
Smart heating and lighting systems allow greater control and flexibility over the amount of energy used. As a result, they help save energy by, for example, automatically turning the heat down and lights off in rooms not being used. This, in turn, saves money on utility bills.
Saving water
Smart watering systems help save water by only watering for as long as necessary. This helps save money on water bills.
Added home security
Smart lighting allows homeowners to make their property look occupied when no one is home. And smart security systems enable them to monitor their homes or see who's at the front door from anywhere.
Convenience
Control smart home systems remotely from anywhere in the world with a smartphone or at home with just your voice.
Ease of operation
Smart home devices are easy to operate using a simple app or voice control.
Disadvantages of a Smart Home
The hassle of installation
Most smart home devices are designed for easy DIY installation. But some items may require specialist help, such as wiring in CCTV cameras and light switches or plumbing in radiator valves.
The initial expense
If you want to set up a large smart home system all at once, the costs can be high. However, it's possible to build the system up over time to spread the costs.
Potential internet security problems
Any internet-based system can be hacked, but as explained in the previous section, these risks can be mitigated by taking necessary precautions.