Holesaws
We have a range of holesaw arbours including cobalt drill bits, HSS, SDS and hex arbours.
We have carbide grit holesaws in a selection of sizes from 20mm - 51mm
Within holecutters we have a selection of sizes and brands including Armeg and Erbaurer.
We have a variety of hole saw sets from brands Bosch, DeWalt, Erbaurer, Titan and Makita.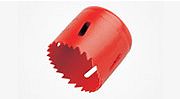 We have single bi metal holesaws from a selection of brands including Starrett hole saws, Erbaurer hole saws and Bosch hole saws.