Pressure Washers
Top brand Nilfisk know what they're doing when it comes to commercial pressure washers, and we have their Neptune and Poseidon models to keep commercial premises clean.
Keep outside as clean as inside with our Outdoor Cleaners range, including path and drive cleaner and patio and driveway cleaner from No Nonsense, De.Solv.It® and Swarfega.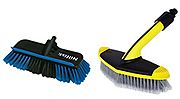 We have an extensive range of pressure washer accessories from Kärcher, Bosch and Nilfisk, including detergent tablets, nozzles, patio cleaner attachments, wash brushes and extension hoses.
We have a generous array of standard & heavy duty pressure washers from Kärcher, Nilfisk and Ryobi, all capable of tackling the toughest of jobs.