Multi Tools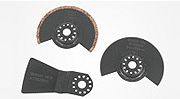 Within multi cutter accessories you can expect to find products from Bosch and Erbaurer.
The multi tools at Screwfix are great for a multitude of uses. The multi-tool is great for quick cutting jobs as well as delicate polishing or grinding.
We have a selection of rotary tool accessories and sets from Dremel.