Cylinders & Accessories
Our COMAP Expansion Vessels and accessories are suitable for both heating and cooling systems and range in capacity from 8 to 25Ltr.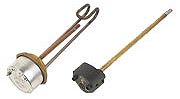 We have immersion heater copper element, dual safety thermostats, Incolloy and re-settable immersion heaters, as well as immersion plugs and washers.
Keep control of your heating circuits with one of our energy efficient digital or mechanical Immersion timers and controllers with features including weekly programmable options.