Builders Metalwork
We have the joist, girder and multi truss hangers you need. Our range also includes jiffy and speedy builders' hangers. All hangers are available in different sizes.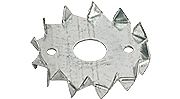 If it's structural fixings you're after, then we have the angle brackets, truss clips, herringbone struts, brick reinforcing coils, hip joints and joist seals for you.
We stock a range of ties and restraints for various purpose. Whether you're on site, or at home, our ties and restraints won't let you down.