Workshop Machinery
If it's a bandsaw with high cutting and ripping capacities you're after then check out our range - with brands like Scheppach, DeWalt, Record Power and Startrite behind them, our bandsaws are up to the toughest task.
Our range of bench morticers and drills includes bench and floor pillar drills and bench morticers from quality brands like Ryobi, Scheppach, Kity and Titan.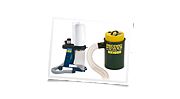 We have a range of dust extractors from brands like Scheppach, Record Power, Woodstar and Dewalt that will keep workshops clean and tools in perfect running order.
Scheppach, Rexon and Sparky are some of the brands to look out for in our grinders and linishers range, featuring bench grinders, wet and dry grinders and more.
Makita, Startrite, Metabo, Record Power, Woodstar and Dewalt are just some of the brands featured in our jointers and thicknessers range, a fully stocked selection of thicknessers and planer thicknessers.
Record Power, DeWalt, Bosch and Erbauer provide some of the sturdiest workshop stands around, including mitre saw benches, roller ball V stands and support stands, and they're all available on our site.
We have an excellent selection of woodworking lathes from Scheppach and Record Power, including woodscrew chucks, revolving centre and woodturning lathes, plus bowl rests and legstands.