Storage & Workbenches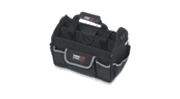 We have a selection of tool bags for your hand tools, including hard bottom, open top, waterproof, lunch bags, rucksacks and backpacks from brands like DeWalt, Forge Steel, Bahco, Plano and Stanley.
We have a range of tool belts and holders for your hand tools, including holsters, holders, braces with clips, quick release work belts and work aprons from Bahco, Plano, CK and Forge Steel.
We have several tool boxes and chests including a galvanized, stainless steel tool box, technicians' tool case, circular saw case and FatMax cantilever rolling workshop from Stanley, Forge Steel and CK.
Our multi-compartment organisers, including Sortmaster and other models, come from trusted brands like Stanley and Forge Steel. Practical solutions for storing your hand tools.