Screwdriver Sets
Forge Steel, Stanley, Bahco and Wera are the brands behind our general purpose screwdriver sets, which include hex shaft, multi-bit ratchet, lasertip and Go-Thru construction screwdriver sets.
Forge Steel or Wera, we have a selection of general long screwdriver sets, including long reach, laser tip and extra long slip-stop screwdriver sets.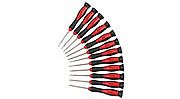 We have a selection of 12 or 21 piece precision screwdriver sets from Forge Steel.
Perfect for those nooks and crannies, our selection of stubby sets includes FatMax Xtreme ratchet stubby, stubby slotted and pozi or pro stubby screwdrivers from Forge Steel and Stanley.
We have an excellent selection of Torx screwdrivers available in 6-piece sets, as well as a tamper-proof version - all provided by Forge Steel and Stanley FatMax.
If you're looking for VDE approved screwdriver sets then see our range from Wera, Forge Steel and Irazola, including Torx, Tekno, Kompakt and Dextro screwdrivers and blade sets.