Lasers
From rotary lasers to construction and tile lasers, we have the right choice to suit your project, including both internal and external lasers. Selection from Makita, Forge Steel and DeWalt.
We have a range of straight line, self-levelling, spot laser, plumb bob and cross line lasers from brands like DeWalt, Leica and Bosch. You can rely on us to find a great choice of self-levelling lasers.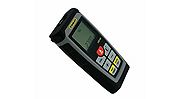 Our laser measuring range is sourced from Leica and Bosch, We have a selection of high quality distance meters, range finders and point finders that's hard to beat.