Knives & Blades
We have various blades to meet your requirements: concave blades, hooked and snap-off blades, trimming, carbon steel blades, plasterboard and heavy duty blades from Stanley and Irwin.
We stock many fixed knives. Whether it's classic Stanley, fixed utility, Irwin ProTouch, Jokari and electricians' cable or carpet knives, visit us for the ultimate in choice.
We stock various lock-back knives for your requirements, from lock-back utility to heavy duty lock-back knives from brands like Forge Steel.
We stock multi-tools to meet your requirements. Whether it's swiss cards, golf tools, suspension multi-function, sport or cybertool multi-tools, we have the goods from Victorinox and Gerber.
We stock various retractable knives to meet your every requirement. Whether it's heavy duty, quick change, twin-blade or self-loading, we have the retractables from Stanley, Forge Steel and Irwin.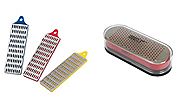 With a range of fine to coarse diamond sharpening stones, pens, pads and kits, including oil stones and keyring sharpeners, you know where to go for the best sharpening stones.
We stock various snap-off knives to meet your every requirement. For snap-off knives and sets in various sizes, have a look at our snap-off knife and blades from brandfs like Forge Steel.