Corded SDS Drills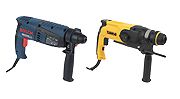 DeWalt, Bosch, Hitachi and Milwaukee - the big brands are on show in our range of 2-function SDS Plus Drills.
We have the 3-function SDS Plus Drills for you, supplied by top power tool brands Bosch, DeWalt, Sparky, Hitachi, Makita and more.
If it has DeWalt, Makita or Erbauer on it then you can be sure a 2-function SDS Max Hammer Drill will be up to the toughest job - which is precisely why we sell them.
Our 3-function SDS Max Hammer Drills were made to exacting standards by Bosch, Hitachi and Milwaukee - which is why they passed our own exacting standards when selecting drills to sell.