Push Button Locks
Choose a Push Button Lock
MORE INFO >>>
Screwfix has a generous array of electric push button locks for medium to heavy duty electronic access solutions, from 1 to 120 user codes for maximum security courtesy of Codelock and Briton.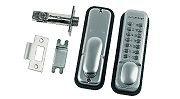 Screwfix has a generous array of mechanical push button locks for internal and external door security, with user codes from 1 to 10 digits. Look out for brands including Codelock, Securefast and Unican.
Do you sometimes wish you could leave your house secure without having to take keys with you? then check out these digital door locks.