Plasterboard Fixings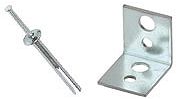 A range of BZP steel ceiling anchors for use with suspended ceilings. These ceilings anchors are suitable for fixing straps, brackets, timber battens etc to concrete, brick and stone.
With brands like Rawlplug and Mungo, you can rely on us to sell the best in hollow wall anchors. Available in various sizes and packs these hollow wall anchors are perfect for use with cavity walls.
We have a selection of metal and nylon RediDrivas plasterboard fixing available in different sizes. Screws supplied.
With a brand like Fischer providing the goods, our plasterboard anchors take some beating.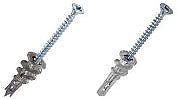 See our selection of self drills for a fine choice from Mungo, Fischer and Rawlplug. For use with plasterboard, they are available in different packs and sizes.
Brands like Fischer and Rawlplug are just two of the suppliers behind our spring toggle range. Spring toggles are ideal for use with plasterboard and are available in a range of sizes and packs.