Safety Harnesses & Fall Arrest
Titan have created Fall Arrest kits to keep you safe when working at heights. With adjustable straps and a 2m shock-absorbing lanyard, you'll be kept both safe and comfortable.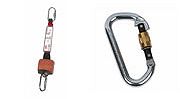 Protective equipment brand JSP has produced a range of accessories for your safety harness. Whether you need a webbing anchor sling, karabiners or single- or double-leg lanyards, Screwfix has what you need.