Garden Tools & Equipment
We have an excellent selection of brush cutters, grass trimmers and consumables in our landscaping power range, from quality brands including Bosch, Hitachi, Mountfield, Echo, Ryobi and Solo.
Our range of electric and petrol chainsaws are ideal for powerful and hassle-free pruning, cutting and tree felling. Big names such as Titan, Bosch , Echo and Mountfield can be found among our comprehensive range.
Our selection of durable, high quality nylon lines will fit a huge variety of trimmers. So whether your grass trimmer is petrol or electric, heavy duty or light duty, we've got the right nylon line for you.
Bosch, Scheppach, Ryobi and Titan ensure that we can help you to make garden waste disposal easy with a shredder from our garden shredder range - and why not recycle the mulch on the compost heap?
Keep hedges tidy and give your garden that 'landscaped' look with one of our generous selection of light to heavy use hedge trimmers - you'll find brands including Ryobi, Echo, Titan and Hitachi.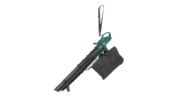 Echo, Ryobi and Hitachi are some of the top names you will find in our range of landscaping blowers and vacuums - with the quality you would expect from these brands.
Scheppach, Ryobi and Woodstar are just some of the brands to look out for in our range of log splitters.
Whether you need a water pump to drain flood water, clean ponds and pools or stop building foundations from becoming submerged, then check out our selection of water pumps for domestic and industrial use. Also a range of water pump accessories.