Garden Hand Tools
Screwfix has a great range of general purpose gloves. Available in leather, latex or PVC, size 10 or L, with patterned grip or elasticated back, you're bound to find what you're looking for.
Post hole diggers, post rammers, mauls and post hole augers - check out our range of fencing tools from brands like Forge Steel and Roughneck, guaranteed to get the job done.
Forks and shovels are just a part of our range created for the keen gardener, amateur landscape gardener or DIYer, so look here for the right shovel or fork for you.
We know what you'll be doing with our gardening tools. Who could resist these mirror-polished steel finish and traditional hardwood handled gardening tools. Spear & Jackson – the right brand for quality.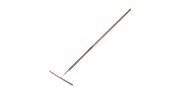 Looking for garden rakes or hoes? Check out our brands such as Neverbend, Spear & Jackson and Roughneck to keep your garden tidy. Rake away the best with our rakes and hoes.
Lightweight snow shovels Ideal for clearing drives and pavements.
Axes are an integral part of landscaping and country living, so what keen gardener can do without one? See our range of axes and hooks for an impressive choice.
Help keep your garden tidy by making your lawn look pristine. These handy lawn edging knives neaten the edge of the lawn, allowing you to achieve that professional finish in your garden.
Are the garden hedges looking like they need a new look? If so, why not invest in our range of hedge cutters and edging shears. We have a wide range suitable for a variety of tasks, so see the range today.
Loppers, tree pruners and saws are here in abundance, so see our range for all your landscaping and gardening tools.
Why not get your garden ready for the long winter months by doing a spot of pruning? We have a range of secateurs and pruners for you - so go on, treat the garden to a new do for the upcoming season.
We have a range of mattocks and picks that you need from both Roughneck and Spear & Jackson. So, if you're looking for a big name mattock or pick, then look our way.
If your work requires your digging tools to be insulated against electricity, then look at our range. Screwfix brings you the insulated digging tools you require.
Telescopic tree loppers and pruners are here in abundance, so see our range for all your landscaping and gardening tools.