Plumbing Accessories
We stock earth crimp connectors and boiler and retro earth crimp connectors, simplifying the attachment of earthing wires.
We stock a diversity of plumbing washers. For ball valves spares, tap washers, fibre washers, monobloc or top hat washers, we rely on brands like COMAP and Split Klick to provide us with plumbing washers.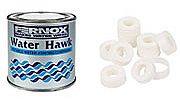 Our big brand sealers and compounds come from No Nonsense, Loctite, La-Co and Fernox. With leak sealer, solder, seal cord, thread and jointing compounds available, you can rely on our sealers and compounds.
A full range of solders and fluxes from Fernox, LaCo, Powerflow and No Nonsense.
Everyday Plumbing consumables including steel wool and Plumber's mait