Weatherproof Sockets
View All Weatherproof Socket Deals.
MK Masterseal outdoor switches, sockets, FCU, & Timers, suitable for all weathers. Manufactured to British Standards, and the products benefits from Logic Plus features.
Cable Entries & grommets designed for outdoor or indoor use, rated IP55 - Dust & light splashing water, IP56 - Dust & heavy splashing water & IP66 Dust tight & heavy splashing water
All these products can be used outside; from Garden Extension Leads, Weatherproof Cable Reels, Waterproof junction boxes, waterproof cable joints and Aquasafe connector system.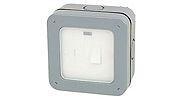 Weatherproof Fuse connection units (FCUs) available in IP ratings; IP55 - Dust & splashing water, IP56 - Dust & heavy splashing water & IP66 Dust tight & heavy splashing water
Weatherproof Junction Boxes available in IP Rating IP66 - Dust tight & heavy splashing water
Weatherproof RCDs available in IP Rating IP66 - Dust tight & heavy splashing water
Outdoor Sockets available in IP ratings; IP55 - Dust & splashing water, IP56 - Dust & heavy splashing water & IP66 Dust tight & heavy splashing water
Outdoor Switches available in IP ratings; IP55 - Dust & splashing water, IP56 - Dust & heavy splashing water & IP66 Dust tight & heavy splashing water
Weatherproof Enclosures available in IP ratings; IP56 - Dust & heavy splashing water & IP66 Dust tight & heavy splashing water