Light Switches
Hugh choice of 1 Gang Light Switches, Cheap light switches to designer light switches all in 1 Gang
2 Gang Light Switches, White light switches to Decorative Light switches all with 2 Gang
Control 3 lights with 3 Gang Light Switches, We sell many 3G Switches in varying finishes.
Control up to 4 lights with 4 Gang Light Switches. Hugh choice of finish all from named brands.
White 6 Gang Light Switches, control up to 6 lights with 6G Switches.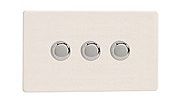 Mains Dimmer Switches 250 Watts. Available in multiple colours and finishes, Screw-less options and in 1, 2, 3 and 4 Gang
400 Watt Mains Dimmer Switches, available in screwless varieties, in many styles and finishes from top brands
Intermediate Switches for when you need to control a light/device from more than 2 locations. Choose from a wide range of Intermediate switches from top brands.
Pull switches come with a pullcord can be used for switching lights on/off or some Pull-Cord switches can be used to turn electric on/off for showers. Ceiling Switches are perfect for bathrooms or shower rooms.
Push Light Switches, push to turn on, push again to turn off. In White Chocolate, Mocha or Jet Black finish from quality brand Varilight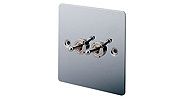 Bring a designer feel to your home with a toggle light switch in a variety of finishes & colours. Toggle Light Switches come in 1 Gang, 2 Gang & 3 Gang.