Garden Lights
Brick lights are a stylish lighting design. So light up your garden from our range of outdoor brick lights.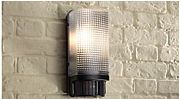 Bulkhead lights or bulkhead light fittings are suitable for a range of settings, although they are most commonly associated with an industrial, maritime or business setting. They are also ideal for a highly contemporary building.
Light up your life with recessed and decking lights. Deck lights are robust and versatile. Whatever deck or recessed light you're looking for, you'll find just what you're after in our range.
Bollard garden lights have a unique and stylish effect. Garden light bollards can be used to help line a path, driveway, or even doors, so see our range of garden lights bollards!
Garden lights with LED have become popular due to their longevity and energy saving, making LED garden lighting money saving. Screwfix stocks a good range of garden LED lights, so why not explore!
Post lighting is used to light a garden path or driveway. Outdoor post lights come in various styles and colours. Post lights outdoor use is very common in gardens that use lighting as a feature.
No wiring needed with these garden solar powered lights. For the most convenient way to light your garden & give ambience, see the Screwfix range of solar garden lights.
Be led down the garden path with our illuminated spike lights lighting your way. Perfect for use around flowerbeds and lawns, spike lights are ideal for your whole garden.