Dimmers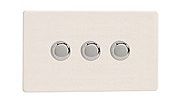 Mains Dimmer Switches 250 Watts. Available in multiple colours and finishes, Screw-less options and in 1, 2, 3 and 4 Gang
400 Watt Mains Dimmer Switches, available in screwless varieties, in many styles and finishes from top brands
Be a bright spark with a dual voltage, 1-way or 2-way dimmer from our generous range care of brands such as Lutron, Halolite and Varilight - suitable for use with mains or low voltage lighting.
With names including Varilight and Lutron, you won't be left in the dark with one of our mains voltage 1 or 2-way dimmer lights - features include fade-to-off, remote operation and timer facility.
Looking for trim rings or remotes? We have a small selection of single and dual remote controls suitable for Lutron Rania and Varilight dimmers and also black or white spacer rings for Lutron dimmers.