Data Networking
Crabtree Module Data Networking Range consists of Blank Module plates, Triplexer, Quadplexer, BT Modules & TV Socket Modules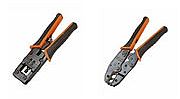 Coax cable testers, LAN installation kits, crimp tools, coax cable strippers, pro data tools - whatever data networking tool you need, Screwfix have it covered courtesy of brands such as Philex and Labgear.
Keep your data networks running smoothly with our range of colour-coded RJ45 booted patch leads and patch panels with up to 48 ports. With brand names including Philex and Labgear you can't go wrong.
We sell replacement PC cables, SVGA HD15 male to HD15 male: from PC/laptop to Montor/display screen/projector. Also sell PC power leads; From UK Plug socket to IPC (PC Power Cable)
Looking for more freedom in your data networking? Courtesy of Trendnet we offer an array of wireless options including directional antennae, wireless USB adaptors, wireless pc cards and wireless routers.