Consumer Units by Type
Populated Consumer Units come with the MBCs, 1 or 2 RCDs and the main switch. We stock Top brands Wylex, MK, Crabtree, British General, Volex & Legrand
RCD Consumer Units come with 1 or 2 RCDs, but without any MBCs, they can be bought separately. We stock top brands such as Wylex, Crabtree & Volex
We sell consumer units for garages, they are IP rated and come in 2-way and 4-way versions.
A dedication section for those looking for a 2 way, 4 way or 5 way consumer unit, from top brands Crabtree, Wylex & MK. Some are Weatherproof
Consumer Unit Enclosures come in various sizes and materials, there are IP rated enclosures, Metal and Plastic versions
We sell consumer units for showers, they are IP rated and all come with a RCD
100A Switchfuses from Wylex, 3 different fuse options 63A, 80A & 100A. Metal Clad for sturdiness.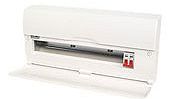 Unpopulated Consumer Units just come with the 100A switch, giving ultimate flexibility. MBCs, RCD and RCBOs can all be bought separately
We sell IP Rated Consumer Units & enclosures, protect your electrical circuits from dust and water with a IP rated enclosure or consumer unit. Perfect for garages or outdoor buildings.