Commercial Lighting
Ensure your way is lit during an emergency with our emergency lighting range. So if the lights go out during a fire emergency, ensure yours go on with our emergency lighting.
Low energy downlights are the perfect solution for ensuring keeping commercial facilities lit up with cost effective, environmentally efficient, low energy downlights.
For retail display lighting that really rocks your shop, see our range from Halolite and others. From track spotlights to circuits, we've got everything you need in retail display lighting.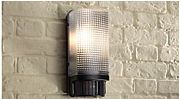 Bulkhead lights or bulkhead light fittings are suitable for a range of settings, although they are most commonly associated with an industrial, maritime or business setting. They are also ideal for a highly contemporary building.
For a commercial floodlight that's reliable and powerful, see our range from Thorn and Trac. Screwfix provide bulkhead commercial floodlights for everyone.