CFL Lights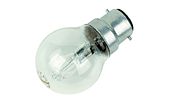 42 Watt CFL light bulbs replacwe the traditional 60W. These 42 Watt CFL bulbs emit the equivalent amount of light to the 60W incandescent, but the CFL means that they are 80% energy saving.
GLS CFL's or GLS Compact Fluorescent Lamps are standard lampd which fit into most domestic light fittings. GLS are a standard bulb shape and most popular for homes. The benefit of CFL is that compared to traditional bulbs they are 80% Energy Saving
CFL Golf Ball lamps benefit from a 80% energy saving compared to traditional bulbs. Golf ball bulbs are used around the home, normally for decorative lights or table lamps, where a smaller bulb is required. CFL Bulbs can last 10,000 hours (up to 10 years)
When looking for candle bulbs CFL candle bulbs are preferable because of their 80% energy saving over traditional bulbs due to their compact flourescent nature.
GU10 CFL bulbs offer an 80% energy efficiency saving over traditional incandescent bulbs. Check out our extensive range of CFL GU10 also known as GU10 compact CFL bulbs today.