Bathroom Recessed Lighting
Main Voltage (240V) bathroom downlights and Shower downlights come in various colours; Chrome, Nickel, White & Brass, Fixed or adjustable, and a variety of IP Ratings. For ease install a Fire rated version.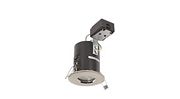 LED lighing is 85% more efficient so choosing LED bathroom downlights makes sense. In times when power is costly, bathroom LED downlights offer a cost effective solution.
Our low voltage (12V) bathroom downlights create the perfect mood. They come in various colours, White, Polished Chrome, Brushed Chrome & Brass, Fixed or adjustable, and a variety of IP Ratings. They take a MR16 bulb