Woodcare
Ronseal and Cuprinol are the big names in wood treatments and we have a range specifically designed for use on wood decking. Wood decking cleaners, sealers and oils improve your decking's longevity.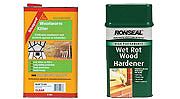 To treat dry or wet rot, including woodworm, check out our choice of eradicators from Ronseal and Sikagard.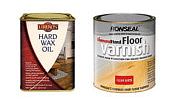 We have a wide range of wood treatments and varnishes, including floor varnish, from Ronseal, Cuprinol and No Nonsense. With big brands like these, you can rely on our wood and floor varnishes.
We have the shed and fence treatments to help your wood fight deterioration and last longer.
We have a range of teak and Danish oils from Ronseal to suit all your needs.
If wood stain is what you're looking for, then look our way. We have a choice of woodstain and varnish from Ronseal, keeping wood looking good.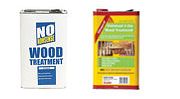 See our range of wood treatments from No Nonsense and Cuprinol, for reliable wood treatments. Wood treatment improves the life of your wood by giving added protection.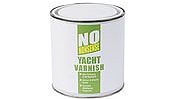 Look no further for yacht varnish. Available in 1Ltr containers, our yacht varnish stands up to the toughest conditions nature may throw at it.