Plastering
Help prevent against plaster breakage, by using our beading. Beading is designed for use in areas where plaster is most vulnerable. We have a range of beading for interior and exterior use.
Add a touch of elegance to a room with our choice of coving. Paint can be applied to coving to achieve your desired colour. We also stock ceiling roses and dado rails to accompany your coving.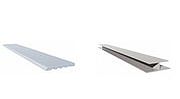 For skirting and architrave to suit you, see our range. We have PVCu acrhitrave and skirting for use around the home or office.