Aggregates & Chemicals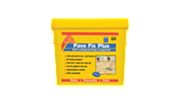 To get the right mix, use one of our additives or plasticisers. Our plasticisers from Geochem, Silka and Cementone have many purposes, including mortar and cement plasticising. We even have a frostproofer.
For seals and roof treatments, we have a stromg selection from Evo-Silk, Firestone, Laybond and Thompson, making our range of seals and roof treatments suitable for various projects.
If it's a waterproofing agent you need, then we've got what you need. From Lybond to Cementone, we've a selection of builders' waterproofing for your requirements.