Mira
Mira brings easy to fit, innovative and stylish showers to the electric shower range. Boasting features such as Clearscale to reduce limescale and a thermostatic control to ensure 100% safe showering.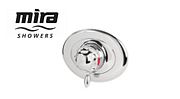 Mira is the nation's most sought-after shower brand and thermostatic mixer showers is ideal. So, why not shower with Mira. Thermostatic showers change the water pressure to absorb any change in temperature.
If you're interested in a Mira Sport, then we have just the one. The Mira Sport thermostatic eletric shower or Mira Sport electric shower is suitable for the whole family. Invest in a Mira Sport shower!