Accessories
Door cushions, cabinet brackets, cabinet hangers and door dampeners are among the essentials in our cabinet fittings range.
For a great choice in drawer runners, we have regular, bottom and side fix drawer runners in a variety of sizes.
We sell worktop fittings to suit a range of kitchens, depending on your worktop requirements.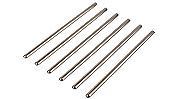 Worktop protectors are available and include quality products from brands that will suit any kitchen.
Cabinet & Concealed hinges are available in different colours and sizes. Sprung concealed screw-on, clip-on and easy mount hinges are just a few in our range of cabinet & concealed hinges.
Complete your new kitchen or refresh the old with our range of kitchen handles and knobs available online and in store.