Individual Items
Keep your shower tidy with our shower caddies. Ideal for your shampoo, the shower caddy also helps stop the soap sliding away.
For stylish and functional bathroom cabinets, look no further. We have a select choice of the most practical bathroom cabinets, so why not view our range.
Our selection of mirrors come with intuitive features that make them extra special. We've got backlit mirrors, mirrors with LED sensors and a heated mirror panel to avoid condensation.
If you're looking for the idea bathroom storage solution, then you're looking in the right place. We have a stylish selection and each one comes as part of a range so you can co-ordinate your bathroom.
Be prepared - your soap certainly will be with our range of soap trays and dispensers. Whatever your style, choose one of these and co-ordinate it with others from the same range.
General Toilet accessories including close coupling kit and cistern levers.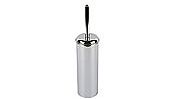 For a toilet brush that's just perfect for your style, see our selection. Each toilet brush is available as part of a complete bathroom accessories range.
Toilet rolls always seem to be absent when you really need them. Help keep your toilet rolls under control with our range of toilet roll holders. Each one comes as part of a range of bathroom accessories.
If you're looking for a towel rail or ring, then see our choice of holders. With our extensive range, we're bound to have something that's perfect for you.
The perfect duo - tumblers and toothbrush holders are useful for a range of bathrroms, so why not take your pick from these and match it with further accessories from the same range.