Bristan Easyfit Taps
Bristan Easyfit
Bathroom Taps
Fitting Bristan Easyfit taps is as easy as 1, 2, 3! Bristan Easyfit taps are the faster and smarter way to fit bathroom taps. Why not watch the videos below or simply follow our Easyfit installation steps 1, 2, 3…
Bristan Easyfit
Vantage & Acute
Bathroom Taps
From
£79.99
inc VAT
Benefits of BristanEasyfit Taps
This unique video from Bristan Easyfit brings you all the benefits of the Easyfit bathroom taps range in the format of the Bristan Tap-Fitting Championships! The Easyfit range knocks the spots of taps!
Step1.

Simply insert the base through the hole in the basin. Ensure it's centralised with the word 'FRONT' facing forwards.
Step2.

Using the hex key provided, simply tighten the fitting to the basin, firmly. Connect the flexi tails, with integral isolation valves closed, to the hot and cold water sources.
Step3.

Finally, push the tap body onto the base and using the smaller hex key, tighten the two grub screws located either side of the tap body, then open the isolation valves on the flexi tails. Easy!
The steps above relate to the fitting of the Acute and Vantage mono basin mixers, only. Please, always read the fitting instructions supplied with all of our Easyfit products.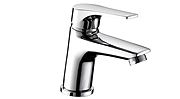 The Bristan Vantage bathroom taps range offers clean lines for modern living. Suitable for a range of bathrooms, these Bristan taps will bring a touch of style to your home, offering quality and longevity.
Simple, sleek and brimming with style, the Bristan Acute bathroom taps range is modern and leans over the basin, ensuring water goes exactl where it should...in the basin.