Vehicle Accessories
Don't let a flat tyre stop your wheels moving. You can rely on our range of wrenches, air compressors and foot pumps from Laser, Airman and Autocare Michelin to get you back on the move.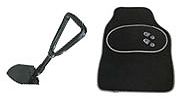 A wide range of automotive accessories for all your car or van's needs, including a boot shovel, steering wheel immobiliser, carpet mats, tool tray, steel mug etc.
Keep your seats and vehicle clean and protected with our range of long-lasting and disposable vehicle and seat covers from Autocare, Sakura and Metro.