Specialist Tools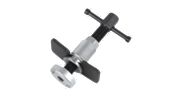 Brake tools from Laser and Gunson for brake bleeding and calliper rewinding.
For compression testers and kits, see our range of compression tools.
For a range of pullers and separators, see our gearbox and bearing tools from big brand Laser.
We have a range of ignition tools for automotive applications.
For all your oil filtering and drainage requirements, see our range from Laser and other brands.
Big name brands like Irwin and Laser provide our stud and nut removers, so you can rely on us to meet your servicing needs.
Don't let a flat tyre stop your wheels moving. You can rely on our range of wrenches, air compressors and foot pumps from Laser, Airman and Autocare Michelin to get you back on the move.