Load Handling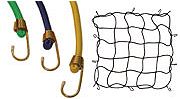 With bungees and cargo nets from trusted suppliers, you can rely on our nets and bungees range to keep your load stowed.
Retaining bars, ratchets and cambuckle straps, as well as bungee and ratchet kits are just a few of the items that will keep your cargo safe and secure.
Check out our tarpaulin range, to suit all your needs.
We rely on brands like Thorsen to provide you with the best towing equipment.